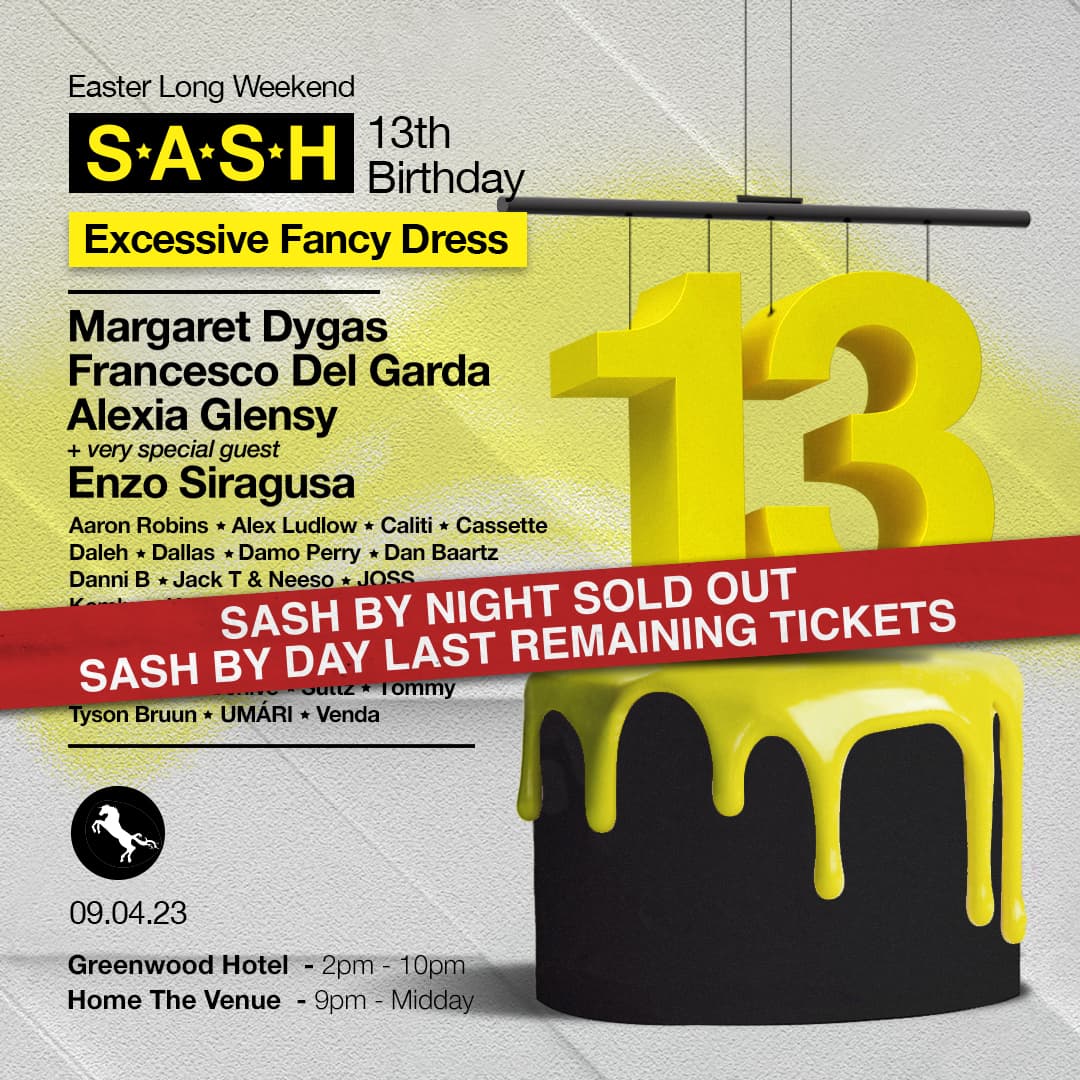 S*A*S*H 13th Birthday ★ Easter Long Weekend ★ Excessive Fancy Dress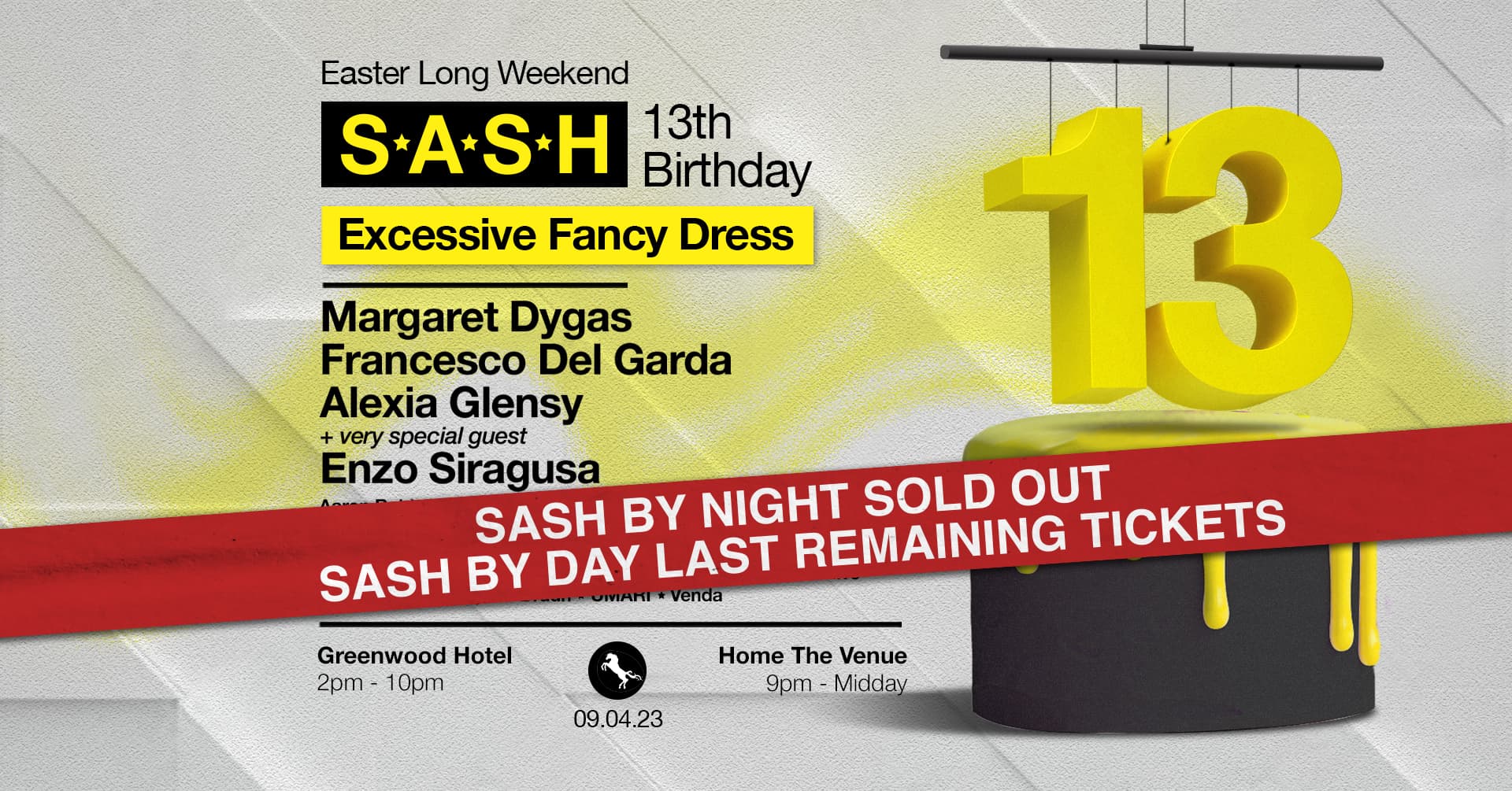 Choose your tickets
Event description
★ S*A*S*H 13th Birthday ★ Easter Long Weekend ★ Excessive Fancy Dress ★
It's hard to comprehend just how long this little soiree has been going on. 13 years is an incredibly long time for any brand to be up and running, especially in Australia where there have been so many hurdles and hoops to jump on, over and through. Finally, into our teenage years, we're beginning to feel a little rebellious. We're incredibly grateful to be able to do what we do and it's during our birthday celebrations that we really get to let our hair down and throw the best parties possible; and this is one of them! From taking over an entire hotel in Bali, to picking up residencies in some of Europe's best clubs, the little horse that could isn't so little anymore. It's seen the world but as Dorothy said – "there is no place like home". And there really is no place like Sydney. We've set sail and skated on ice, we've sat down and festival-ed, we've partied in warehouses and floating islands, we've seen sun sets and sun rises, days and nights and we've done this all with you. They say 13 is an unlucky number. We don't know who they are and frankly, we don't care. Our 13th year has been nothing but monumental, with much more still to come. What's more important is that it's our 13th birthday and we'd like you to come and celebrate with a MONSTER lineup of guests to wet more than your whistle.
To start us off, the first artist revealed is the Queen who stands guard at the Perlon gates, Margaret Dygas. With a sound born in New York, ripened in London and refined in Berlin, Margaret Dygas is an artist whose sound possesses a true international resonance. Following her move to Berlin in 2007, Margaret started producing and writing her own music, and has since then released EP's and full-length albums on Contexterrior, PowerShovelAudio, Perlon and Non Standard Productions. With her broad musical background fuelling her desire for electronic experimentation within her music, her productions and dj-sets incorporate the deep and dub-influenced sound she loves, whilst retaining the driving funk of her musical past.
2nd on the birthday roster: Francesco Del Garda's passion for what he does is clear for all to see: he plays with a smile on his face and gets as much enjoyment from his work as the dancers in front of him. They like to get up close and personal, too, because his sets are filled with unknown gems, overlooked gold and speak of his obsession for unique sounds. Well-schooled both technically and musically, the ever-evolving Italian mixes up smooth grooves from house, electro, garage, techno and minimal and joins the dots sweeten the old and the new. No matter the trends of the time, Del Garda has always valued vinyl and when many were going digital, he remained true to his roots.
Stepping in at number 3, Brazilian-born, Berlin-based Alexia Glensy is one of the fastest growing talents in Europe right now. Having burst onto the scene in 2018, she's seen herself gracing nightclubs and festivals alike, alongside the best of the best, and this event is perfect example.
Finally, we're joined by our dear friend, and very special guest, Enzo Siragusa, to round out by far and large one of our most exclusive line ups to date. Joining our glorious team of big-ticket items, we've enlisted the help of some of our nearest and dearest.
S*A*S*H by Day 9th of April 2pm till 10pm
Greenwood Hotel 36 Blue Street, North Sydney, 2060
S*A*S*H by Night 9th of April 9pm till 5am
Home The Venue 101 Wheat Road, Darling Harbour, 2000
★Sundays.are.shit.hot★sorry.ain't.seen.him★sorry.about.saturday.honey★